03.28.23
Senator Collins Underscores Importance of Larger Naval Fleet to Deter China
Click HERE to watch and HERE to read Senator Collins' opening statement.  Click HERE to download.
Washington, D.C.—Today, U.S. Senator Susan Collins, the Ranking Member of the Defense Appropriations Subcommittee, questioned top Navy and Marine leaders about their shipbuilding plans for the next fiscal year.  Under the Administration's proposal, the size of the Navy would actually shrink to 291 ships over the next five years.  By contrast, China's fleet is projected to grow to 440 ships by 2030.
Secretary of the Navy Carlos Del Toro; Chief of Naval Operations Adm. Michael Gilday; and Marine Corps Commandant Gen. David Berger testified at the Defense Appropriations Subcommittee hearing to justify the U.S. Department of the Navy's fiscal year 2024 budget request.  Senator Collins had a separate hour-long meeting with them yesterday in her office to discuss their priorities.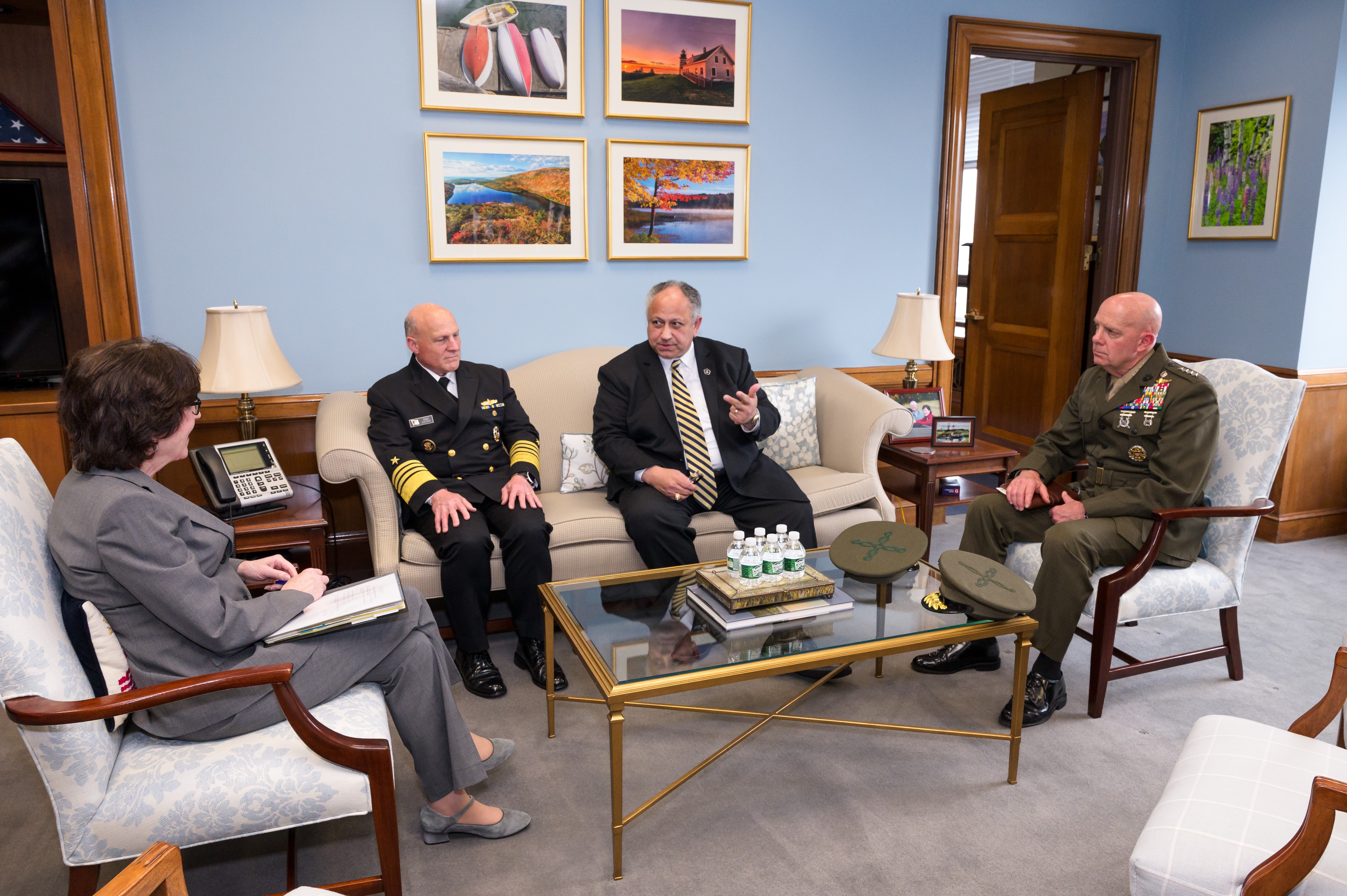 At the hearing, Senator Collins requested an update from Admiral Gilday on his fleet size requirements, which will give the Appropriations Committee a target as it works to provide additional funding for shipbuilding.  Senator Collins believes the Naval fleet should be larger to counter global threats, particularly from China.  Admiral Gilday shared that goal, noting, "The bigger [the] fleet, the better."
Senator Collins also raised concerns that nearly twice as many submarines as planned were not deployable in recent months because of maintenance or other issues.  Admiral Gilday assured Senator Collins that the Navy is addressing this problem with a three-pronged approach: 1) eliminating manufacturing surprises; 2) acquiring materials in advance; and 3) developing an experienced workforce.  Senator Collins told Admiral Gilday that "Portsmouth Naval Shipyard has one of the best apprenticeship programs that I've ever seen" and encouraged him to look to PNSY as a model.
Finally, Senator Collins pointed out that the Navy's budget assumed a fuel price of $140/barrel, yet when the budget was rolled out, the actual cost was $169/barrel.  She emphasized the need to account for this reality, otherwise it could jeopardize flying hours, steaming days, training exercises, and other readiness activities.
Transcripts of Senator Collins' exchanges with the Navy and Marine leaders are below:
Size of the Navy Fleet
Click HERE and HERE to watch Senator Collins' Q&A on the Navy fleet size.  Click HERE and HERE to download.
Senator Collins:
Thank you, Mr. Chairman. Admiral Gilday, the FY22 NDAA sought to empower the CNO by requiring the CNO to submit his or her fleet size requirements directly to Congress. In July of 2022, the first such requirement was submitted and called for 373 ships, compared to 296 In the fleet today. Your navigation plan, which was released that same month, called for 96 large surface combatants, like those built at Bath Iron Works, in my home state. Two questions, first, when do you anticipate that your analysis will be released so that we have the benefit of your guidance in drafting the bill? And second, is it likely that your updated fleet requirement will be greater than the 373 ships, in light of China's modernization?
Admiral Gilday:
Ma'am, on the first question, I've committed to Congress to deliver that report by the 10th of June this year, and I will make that deadline. We are on track with our analysis team to do that. Secondly, with respect to not only the size, but the composition of the fleet, I would expect that to change from the last report, particularly in terms of composition. It's too early to tell with respect to size, but quite honestly ma'am, I can't see it getting any smaller than 373 manned ships.
Senator Collins:
Thank you. And that's quite a ways from where we are today…Could you explain to the committee why our surface Navy is so important as a deterrent from a deterrence perspective?
Admiral Gilday:
So the destroyers, the cruisers that we have at sea today are really the backbone of the fleet, along with our aircraft carriers and our amphibious ships. You just can't replace forward presence. It's there to not only ensure that U.S. interests are looked after, but that we're also poised in case any crisis comes up. We reassure allies and partners that we are there 24/7, 365. A full third of the Navy is forward on any given day. The second third is in maintenance. And the remaining third is either just returned for deployment or is ramping up to go. That's where we belong, out forward. The Secretary of Defense has directed readiness levels to us, and those are ships that are ready to respond within 10 days, those ships are all at sea now. And so what we're trying to do, in order to take advantage of the firepower that we have today, is to improve our maintenance cadence, as an example, to send more ships to sea. The more the better. The bigger [the] fleet, the better.
Maintenance Delays
Click HERE to watch Senator Collins' Q&A on maintenance delays.  Click HERE to download.
Senator Collins:
Admiral Gilday, I was pleased that my colleague from New Hampshire brought up the Shipyard and Infrastructure Optimization Program…And that is well resourced in the budget, which I'm pleased to see, not only because the work that we both are interested in at the Portsmouth Naval Shipyard in Kittery, Maine, is underway—one phase has been completed, but there's more to come—but also because I'm concerned about the number of submarines that aren't operational because they need maintenance or refueling. And that's a trend that we need to reverse. I'm told that nearly twice as many submarines as planned were not deployable in recent months because of maintenance or other issues. Are the investments in this budget sufficient for us to try to reverse that trend?
Admiral Gilday:
I think so, ma'am. A lot of this is on us, in terms of process. There are three areas that we're really focused on. One is eliminating surprises, for whether it's a private or a public yard, in terms of what they need to do. It's just like doing a house renovation. Surprises drive your budget up, and they drive you off schedule. So we've focused on that, and I'll talk about numbers in just a minute. The second thing is material. So, you've given us a pilot using OPM money, so multiyear money, to not only put private yard availabilities on contract across fiscal years, but to also use that money to front load the material, so that the workers aren't waiting for that to arrive. And it's mitigating the risks that we're seeing with supply chain vulnerabilities. The third piece is the workforce. And I know you're well informed about, you know, developing an experienced workforce. And we continue to work with industry on that. Based on those three areas, and the work that we've been doing, we've seen delay days to shipyards come from more than 7,000 down to 3,000. That's not good enough. I predict that based on the track that we're on we'll be less than 1,000, a year-and-a-half from now. So by the end of FY24, our goal is actually below 900. And I think we're on track for that. But again, the investment's really in the material side. In terms of money. There's a half a billion [dollars] in Virginia-class submarine repair parts in this budget alone to address some of that. So, I think we're on the right track, we're not satisfied yet. But the more operational availability that we return to fleet commanders, to your point about the submarines, the better off that we'll be in terms of having a Navy operating forward.
Senator Collins:
Thank you. With regard to workforce, let me just mention that the Portsmouth Naval Shipyard has one of the best apprenticeship programs that I've ever seen. Each year they bring in about 100 new people into this apprenticeship program. They train in very realistic conditions, in very confined spaces, for example. And it really is a great program. And that's what I think we need to do more of in industry, as well, so that we have a pipeline of experienced workers.
Inadequate Budget for Fuel Cost
Click HERE to watch Senator Collins' Q&A on fuel costs.  Click HERE to download.
Senator Collins:
I do want to go back to the point that I made about the budget's assumptions on fuel costs in my opening statement, because the budget request assumes a fuel price of only $140 per barrel. And it was ironic that on the day of the presentation of the budget, the fuel costs, as measured per barrel, was 20% higher than budgeted. So, my final questions for this hearing is, will you work with us to make sure that we do have sufficient funding for fuel? And explain to the committee what would be the implications if we've under-budgeted for fuel, in terms of flying hours, steaming days, training exercises, and other readiness activities?
Secretary Del Toro:
Yes, ma'am. It is a serious impact, because as the CNO said earlier, at any given day, 1/3 of our fleet and aircraft are operational, and therefore we use fuel quite a bit. And so we're significantly impacted by the cost of that fuel. And so it is important to estimate those costs appropriately. And certainly, again, you know, we thank the Congress for the support they gave us in '23, by putting $9 billion towards inflation. But it certainly makes it more difficult to be able to budget properly if we don't have the budget perfectly aligned to inflation. But that's a real difficult problem to do as well too, for OMB and others to be able to predict well ahead, exactly what inflation might be next year. However, I think the greatest threat to our budget and the things that we're trying to accomplish today, actually, is if the Congress were not able to pass an appropriations bill on time this year. And that will unquestionably threaten all of the things that we've talked about at this hearing today.
Senator Collins:
Well, I certainly agree with you on that, and I know that the chairman does too. And that's why the sooner we can get information back from you, including—June 10 seems awfully far off for the plan, but the sooner we can get responses, the better off that we can be in getting our work done as well. I want to sincerely thank all three of you for the time you've spent with me, and also for your testimony today. Thank you.
+++
As the Vice Chairman of the Appropriations Committee, Senator Collins is pressing forward with Chairman Patty Murray (D-WA) to hold subcommittee hearings on the President's budget.  These hearings provide an important opportunity to assess our country's needs for the coming year and will help guide Senators Collins and Murray's efforts to write the annual government funding bills.
###
---
---
Next Article
Previous Article